Tuesday, February 9, 2010
Last year I had a pretty good food garden going and harvested foods like beets, carrots, tomatoes, onions, eggplant and greens. All kinds of greens from baby salad, to beet greens, spinach, kale and mustard greens.
All winter greens are readily available and cheap this time of year so a good buy for your grocery budget, and great nutritionally too!
Whilst researching Mustard Greens last week I noticed that they are used in the Indian dish Saag, which can be made with Spinach, mustard or Kale (or pretty much any greens from the sound of it!).
We love Indian food, all indian food (vegetarian naturally)
and I like Saag Paneer, or in this case Saag tofu, so I decided to try it out :)
Saag Tofu Ingredients
1lb Finely chopped greens
1/2 lb Firm Tofu (about half a block)

2 med tomatoes - pureed
1 tspn Ginger
1 tspn Coriander Powder
1/2 tspn Turmeric
1/2 tspn Chili Powder
1 Tbspn oil
1/2 tspn cumin seeds
pinch of asafetida
1/2 tspn salt
2 tbsp Whole wheat flower
1/3 cup cream *(I used soymilk, and just doubled the qty)

Method:
Blend Tomato puree and ginger. Mix coriander, turmeric, chili powder and salt in with ginger/tomato puree mix and set aside. Mix flour with cream and set aside.
Cub tofu into 1/2" chunks, fry lightly and medium heat.
Heat oil in pan, and asafetida and cumin seeds. When cumin seeds 'pop' add tomato mix and cook till reduced by half.

Add chopped greens and cook for 10 mins, stirring occasionally. Empty pan contents into blender and blend well, add some cream mixture if necessary.

Empty contents back into pan and return to heat, mix in cream mixture and cook for 5 minutes.


Add tofu, cook through for a few minutes. Serve



After following the recipe and mixing the Mustard and some spinach I had to use up in the fridge I was left with a creamy dish that was more than edible (yummy!), and one I'd definitely cook again. Though I'd use less chili powder next time, maybe 1/4 tspn, perhaps using milk rather than cream made the dish spicier because there was less fat? I served the Saag with rice and some leftover Chole.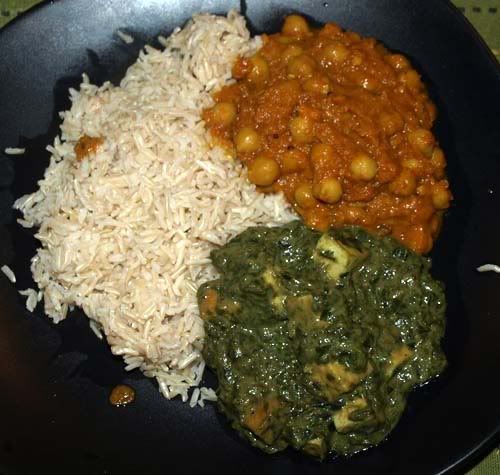 When I make it again I'll process it a bit more so it's more creamy and finely blended, but not bad for a first attempt and homegrown!